Innovative Online Chemistry Video Course Improves Concept Proficiency
March 09, 2023
Freshman college students have a lot on their plates. After the whirlwind of enrollment, filling out financial aid paperwork, and moving on campus, the dust seems to settle as they start classes. To successfully pass Chemistry, it's imperative that students first understand the foundational concepts taught at the beginning of the course. You can't move onto the next concept if you don't understand the one before. And unlike other courses, Chemistry isn't one you can coast through, causing many students to feel overwhelmed.
For some, the concepts click, and they gain momentum, but for others, they struggle to understand, causing a delay in their "ah-ha" moment where the concepts do finally make sense. Because everyone has a different way of learning, students retain information best if they can manipulate the material to suit their own learning style. Traditional textbooks and semester formats don't always provide more than one way of teaching freshman chemistry concepts.
Large Class Sizes
Classes can be large, and getting one-on-one help from professors is very beneficial, but sometimes students need more support to help them understand chemistry concepts outside of class time and office hours.
Full Class Load
Students have full class schedules, so it's not possible to devote all their brain space to learning chemistry concepts that are presented to them in a way that isn't easy for them to retain and understand. Not only are students trying to grasp challenging concepts, but they are also altering the way they learn best to "fit the mold".
Lack of Resources
Textbooks are decided on by a committee and reviewing chemistry textbooks is a tall order. If a student is already struggling to keep up, sifting through the pages of a hefty textbook to try and understand these concepts on their own is as useful as trying to read a textbook written in a foreign language; it just doesn't compute. Chemistry textbooks offer an online version for students, but you must purchase the expensive text to gain access to the online code needed for the digital version. Many students lack the financial resources to do this.
What's the Solution?
Instructors are in the position to connect with freshman students and can have a significant impact on overall chemistry concept retention. A one size fits all lesson approach may not be the best angle.
Fortunately, instructors have an opportunity to point students to the tools they need to succeed on their own, regardless of whether their needs have been identified or not. Trivedi Chemistry provides instructors with a fully vetted and approved freshman chemistry course for high school and undergraduate learners to learn basic chemistry concepts to help them succeed and thrive in class.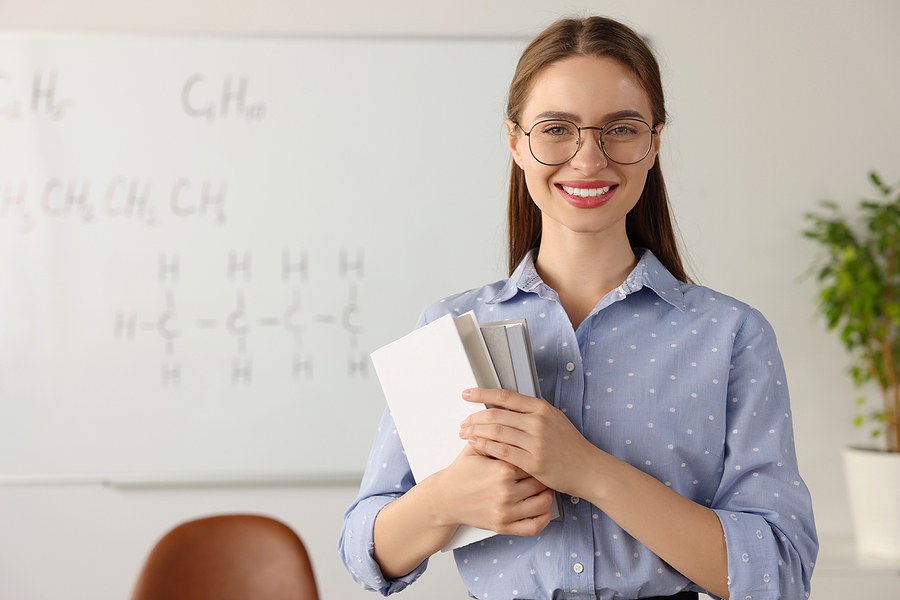 What Makes Trivedi Chemistry Different?
Trivedi Chemistry gives students interactive resources to learn at their own pace, so they can master chemistry classes. With over 2000 practice questions to choose from, students not only understand the material but receive step-by-step explanations for incorrect answers to help reemphasize the learning concept or process.
Utilizes an Individual Learning Approach
Trivedi Chemistry's online video chemistry course and eBook allows students to explore different approaches to learning chemistry concepts in a way that works best for them. This innovative approach helps every student succeed, regardless of their learning style, because it's adaptable and available anytime, anywhere.
Making Chemistry Easy
Lessons are accessible from any device with internet access making online courses and eBooks for chemistry easily available to all students. In addition, Trivedi Chemistry costs considerably less than a traditional textbook, giving students affordable access to the materials, videos, practice exercises, exam questions, and visual aids with detailed explanations.
Teaches Full Concepts in Both Formats
It's difficult to take notes on something you don't really understand. With Trivedi Chemistry, students can rely on a full spectrum of concepts through both video and text, so they aren't relying only on notes from lectures to study from.
Saves Instructors and Students Time
With Trivedi Chemistry, professors can dedicate more time to helping students understand concepts, and fewer students require one-on-one attention to understand concepts. Students can study efficiently, and dive into concepts they struggle with to fully understand the material and stay on track.
Want to Learn More?
Trivedi Chemistry is the online chemistry course instructors can count on to help students thoroughly understand all concepts in freshman chemistry. Using a wide variety of innovative online tools, Trivedi is more than just an eBook. Our interactive general chemistry video course and eBook includes walkthrough explanations, videos, and 3-D models with comprehensive breakdowns to help visual and kinesthetic learners manipulate the data and teach to their learning style. If you're ready to learn more about how Trivedi Chemistry can help you create an innovative lesson plan this semester, contact us today for a free demo to learn more about how our best-selling chemistry course can help your students succeed.